You can contact CGS directly on 800-453-5575 or at http://www.cgsservices.com
Regular Trash Pickup is Wednesday every week.
Recycle Pickup is every other Wednesday.
Trash pickup will usually be delayed by one day and held on Thursday if the Monday of that week is a recognized public holiday.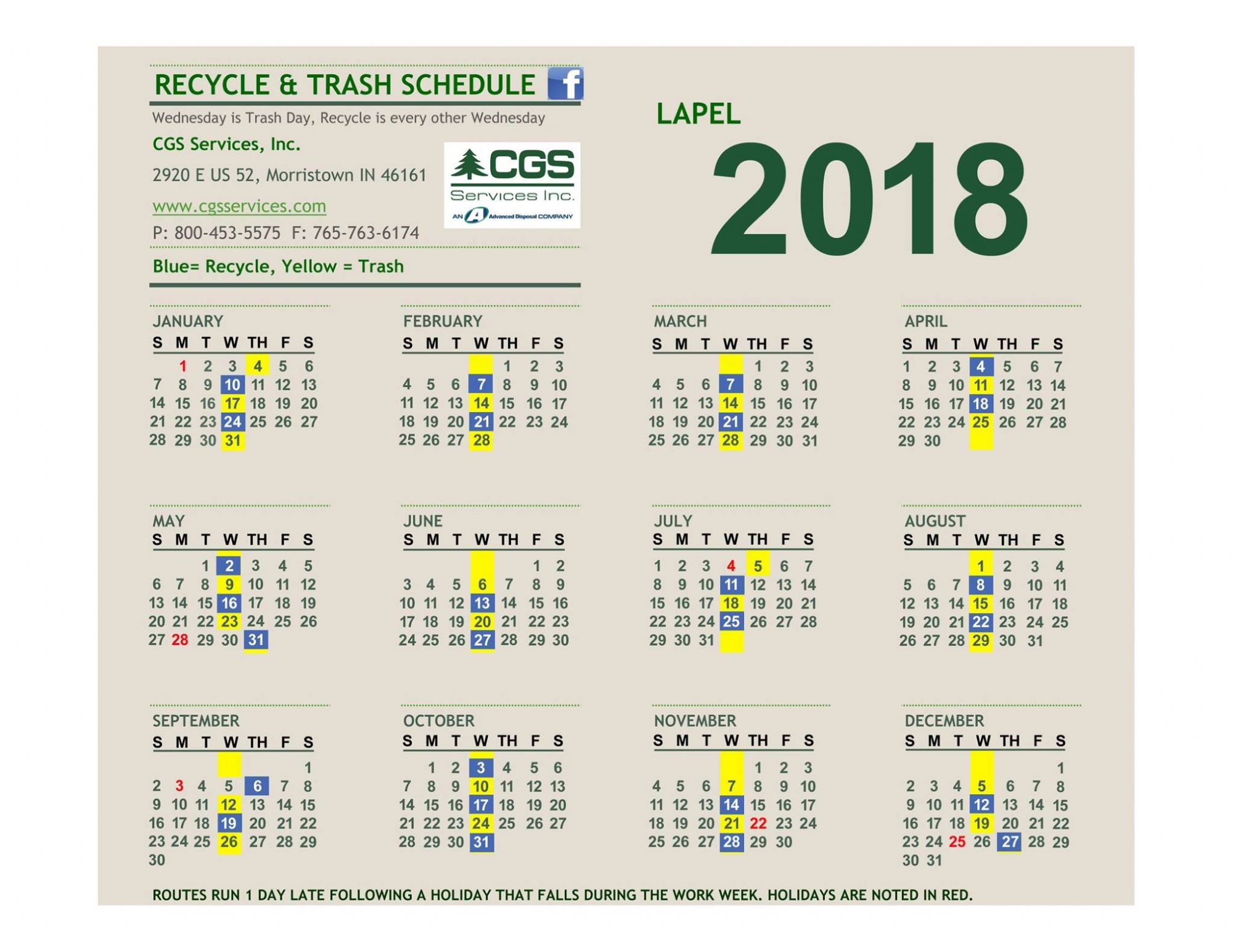 CGS Recycling
Plastic
YES

Water, soda and juice bottles.
Milk and juice jugs
Salad dressing bottles
Cleaning bottles
Dishwashing liquid bottles and detergent jugs
Shampoo, soap and lotion bottles

NO

Styrofoam
Kitty litter tubs
Microwaveable food trays
Motor oil bottles and other containers that held hazardous products
Old trash continers
Plastic wrap
Plastic hangers
Toys/Furniture
Plastic Netting
Snow Fencing
Glass
YES

Food and beverage bottles and jars

NO

Drinking glasses, ceramic dishes and vases
Window glass and mirrors
Light bulbs
Metal
YES

Food and beverage cans
Aluminum, tin and steel cans

NO

Cans that held hazardous products such as paint thinner, oil, gas.
Metal hangers
Aersosol cans
Paper
YES

Mail, office and school papers
Magazines and catalogs
Newspapers and inserts
Shredded paper in closed paper bags
Phonebooks
Cardboard and paperboard boxes

NO

Paper soiled with food
Paper plates and cups
Paper napkins or towels
Shiny/metallic gift wrap
Diapers
Wax paper and cardboard milk cartons
General Tips:
All material must be clean and free of debris.
Please do not mix trash with your recyclables, or .... your recyclables will be come trash!
---
Heavy Trash Service
Bi-Annual pickup Spring / Fall
All items to be placed at curb in a neat and orderly fashion. Small / loose items should be bagged or in containers.
LIST A:
Eample of typical household heavy/bulk trash items include:
Microwaves
Fans
Lamps
Lawn Furniture
Gardening Tools
Children's toys
Blinds
Hot water heaters
Household furniture - No sofa over 90" and no hide-a-bed/sleeper sofas.
Mattresses and box springs, bed frames
Rugs (MUST be rolled and tied and no larger than 8' x 10')
Bikes
Extra bagged trash
Other acceptable items that will not require more than one person to lift due to weight or size of the item.
Please contact CGS services to make arrangements for any item that may require special handling. This includes:
Appliances - Refrigerators/freezers must be tagged by licensed technicians that Freon has been removed.
Any item that cannot be lifted by one individual due to weight and/or size of the item.
LIST B:
Items that WILL NOT BE TAKEN include:
No construction debris
No remodeling material (carpet/roofing/wood/insulation/plumbing etc..)
No liquid material
No hazardous materials
No tires
No hide a beds/sleeper sofas
No tenant household move outs
No small loose trash
No small business operating out of home with additional trash from other sources such as a scrap metal collecting, remodeling service etc ....
OTHER PICKUPS
Call CGS Services on 800-453-5575 to ask for a free sticker (one per household per year) to place on a heavy item. Residents must call to receive the sticker and item can be picked up on the first Wednesday of the month.
For those needing additional service you can contact CGS directly to order more stickers at a cost of $12 for 3 tags. Contact CGS directly for more information.