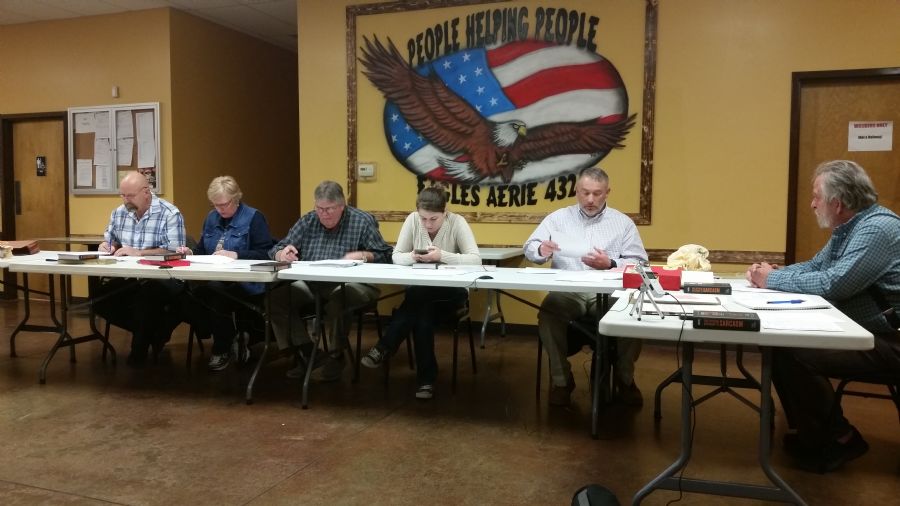 During a sometimes long and confrontational meeting held at the Eagles building on Decenber 21st, the Lapel Town Council comprising Michael Cates, Lindsay Washmuth, Dave Taylor, Deb Wainscott and Tony Pearson listened to complaints from 5th St residents over flooding issues relating to Bulldog Park.
Resident Jay Deloughery presented the Town Council with photos and videos of flooding events in his back yard since 2016 that he believes are caused by the new park.
He told council members that they did not put in a swale, the ditch is not deep enough.
Various members of the council confirmed that it is a swale.
Michael Cates (President) stated that the park received drainage board approval, but that he would get with Chris Hobbs (Utility Manager) and contact the drainage board to see if the drainage board will allow them to make further changes to the way drainage works at the new park.
Resident Keith Cox stated, "the retention pond is too small" he believes that it is unable to hold enough water so it overflows and enters the yards of the people that live on 5th St.
Cates commented that the pond was planned to be bigger but due to complaints from residents who were concerned over it being too deep it was made smaller.
Resident Gerald Lowhorn stated he had spoken to a bulldozer operator who told him that it was not a swale but an embankment.
He had spoken with Park Board President Bill Hutton until he was blue in the face and that if it floods again he will be seeking legal action.
Resident Karen Lowhorn added that she was not against the park and had lived in the same house for 47 years and she was too old to be pushing water around in her garage when it floods.
Cates reiterated he would look into dealing with the drainage board to get the flooding issue fixed.
He also noted that he wished they had come to him directly to voice their concerns instead of talking to the news media.
Cates wished we (Town of Lapel) had the money to fix all the flooding issues and make repairs to the roads today but it just wasn't possible.
Eerie St Resident John Schottmer thanked the town for fixing flooding issues he experienced after park construction started.
He also asked the Town to take care of its responsibility to mow the Southern part of the park property to stop the weeds from getting too big.
Cates added "We should all work together to make Lapel better."
Later on, the council performed the third reading of the 26% Gas Rate Increase.
Several residents present voiced their concerns that people on fixed incomes would not be able to affordthe new rate and that people with $500 gas bills would be unable to pay them.
Cates said, "No one wants to be the guy that raises rates, but we have no other choice."
Cates stated the three solutions to the gas company losing money were to do nothing and go out of business, raise rates or sell to Vectren who might double or triple your rates. He felt raising rates was the lesser of the three evils.
Paula Lee (Clerk/Treasurer) added that there is a phone number she will supply on the Lapel Facebook page (or you could call Town Hall) for Job Source in Anderson and they offer Energy Assistance during Winter and Summer, that may help with paying your gas bill if you need it.
The Council with the exception of Tony Pearson voted YES to approve the rate increase.
Other matters discussed:
The council discussed solutions to attendance problems such as a database or time clock and a new attendance policy. - Tabled till next meeting.
Approved a 2018 Mileage Resolution to reimburse employees that have to use their own vehicle for town business.
Dennis Molina to come up with a priority list of roads to work on first in Lapel.
The Police Department is hoping to purchase a new Pickup, this to be discussed at the next meeting.
The Town may have to pay around $8,000 to repair a broken valve on a waste storage tank at the sewer plant.
The Town has a quote for $33,100 to install gas lines at Montgomery Farms. Council members thought this was something our own utility workers could do and would seek a price from them to do it.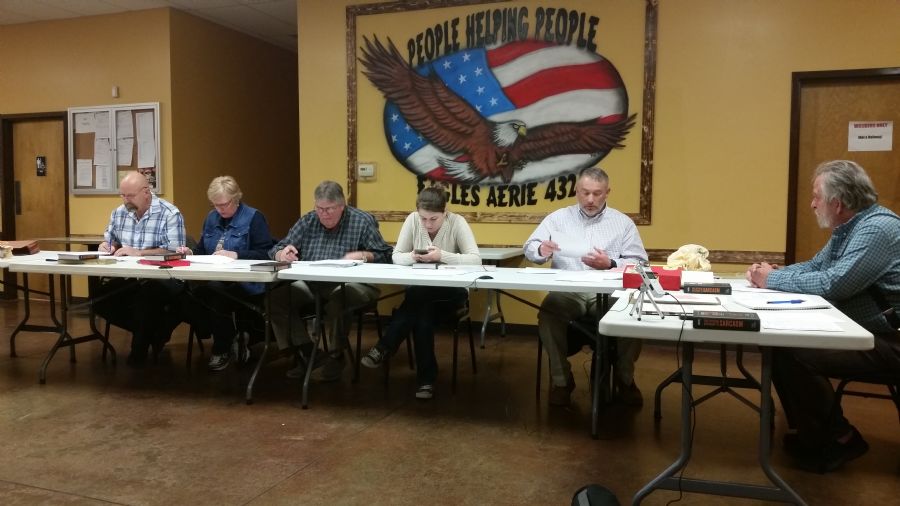 Back