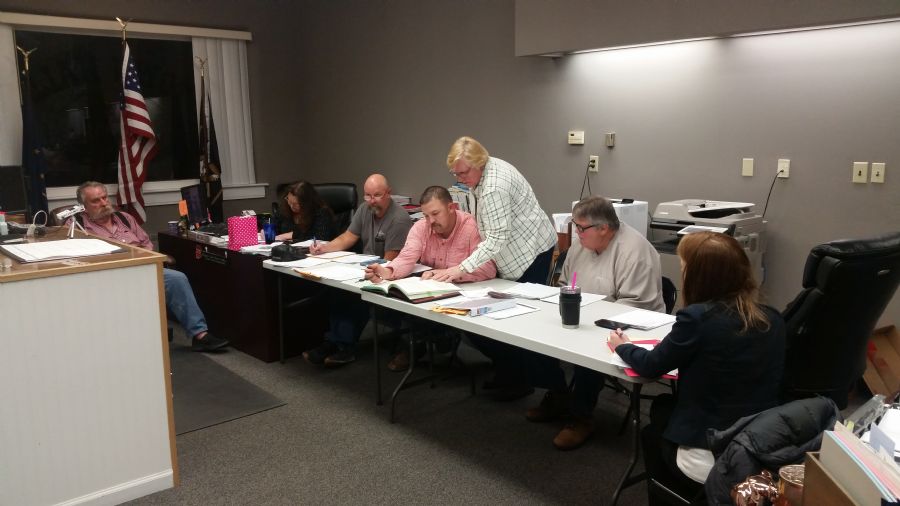 The Town Council held a re-scheduled Town Meeting at Town Hall last night from 7pm.
Deb Wainscott (President), Tony Pearson (Vice President), Dave Taylor and Tom Marvel were present.
Weight Limit
The Town Council read a "missing" ordinance from 2016 that has now been updated concerning road weight limits.
The ordinance declares Main St a "no truck" zone excluding vehicles with a weight of 26,000lbs or more.
Exemptions:
Farm and Grain Vehicles
Local deliveries to business on Main St
Public Safety Vehicles
There are fines for violating this ordinance.
All members present voted yes except for Tom Marvel who voted no. The council accepted the ordinance.
Vectren
The Town of Lapel and Vectren are engaged in talks to discuss serving the Shelby Materials Concrete plant that was put in along 650 S, which is inside Town limits on the far south side.
Vectren has installed hardware to facilitate providing gas to that location, but the Town of Lapel was not offered first refusal to do so.
The Town has just discovered that Shelby is expecting gas service by December 14th which would be impossible for the Town of Lapel to do given they still have several miles of gas line to run.
Gas line was ordered months ago to expand the gas line all the way to near 700 S but work was put on hold when the legal dispute was discovered. Residents may have noticed the spools of yellow line sitting outside the utility building for the last few months.
Deb Wainscott was not happy that USDI stopped work on installing the line and wants them to resume.
Dave Taylor commented "USDI should do the work and Shelby Materials can wait until it is done".
Most council members agreed that Shelby Materials should have known the property was in Lapel and asked us for service.
Tom Marvel suggested "someone needs to talk to Shelby Materials".
Furthermore, messages have been received by some residents in Lapel that are building in the additions that Vectren is the only gas service provider for the Town.
The Town Attorney is in talks with Vectren to clear up these and some other disputes.
The Town Council asked the utility department to get pricing and then we can order the final section of pipe that would run from the 4-inch gas line onto the property as well as the 2-inch meter and regulator.
In the meantime it sounds like USDI will be asked to resume installing the gas line from 400 S so that Lapel can start supplying potential customers including Shelby Materials.
1782 Notice
The Town of Lapel's budget has gained approval via a 1782 Notice. Everything the Town asked for has been approved. Except the Town will not know exactly what they are getting because the "circuit breaker" will be applied to this amount. https://itep.org/property-tax-circuit-breakers-in-2018/
New Park Updates
Work on the concession stand is expected to be finished this week, DNR is to do a final inspection.
Police Updates
Officer Whisler has resigned and the 15th will be his last day. He has been asked to repay the cost of his training as he did not stay with the Town two years after graduating, which is in Town policy for Police Officers.
Reserve Officer Biddle has resigned.
Part Time Officers Owens and Ricketts have resigned as they are moving to work for IMPD.
New Part Time Officer Jason Thomas will be joining the department.
Chief Naselroad is still reviewing 12 candidates for Full Time hires.
The Council approved buying a Dodge Durango 2019 Pursuit rated Police Vehicle for $31,528.
The Council want Chief Naselroad to come back with quotes to install a half-cage in this vehicle and all the other used Police vehicles to provide safety to officers when transporting prisoners.
One of the Police vehicles being driven by Officer Whisler was involved in a crash with a semi, the insurance of the semi is expected to pay the $13,000 repair bill.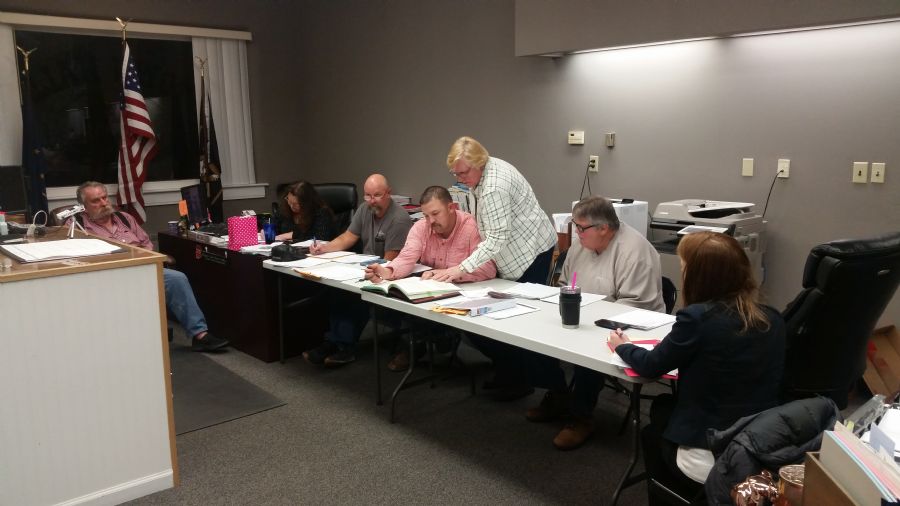 Back